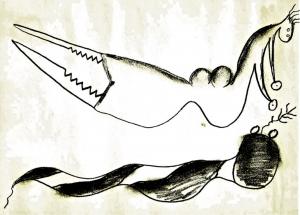 The History: This is my story and I'm sticking to it… for now.
I was researching for a bigger drawing that would contain many fantastic creatures. My original hope was to push my limits and accomplish something as complex as the Pop Surrealism paintings I was enjoying in Juxtapoz magazine. At this time, I was still rummaging through used bookstores and discount racks at Chapters. I found an amazing collection from a whimsical illustrator and ended up developing a series inspired by Richard Stine's Illustrations. These were a few of the curious critters I found in his words. These and much more populated some strange landscapes I did in acrylic on plywood and canvas.

The Technique: How I did this awesomeness!

I hadn't yet discovered how to play with Sharpies, but I had access to a box of black felt tip permanent markers. The kind one might use to write on packing boxes. The ink was a little gloppy and smudged easily and I used that to my benefit to work like the graphite pencils I liked to use.

The Influence: Confessions of a Plagiarist, sort of…
The obvious is Richard Stine, however, I recall feeling the need to try and channel Dr. Seuss, so this was a guiding influence as well.

Help Me Grow My Fancy Shoe Collection: Buy The Artist's Prints, Mugs, T-Shirts, Pillow, Shower Curtains, and other awesome stuff.

What inspires an artist?
"All they see" is the first and most literal answer.

For me, that is literally hundreds of gallery & museum exhibits, thousands of books, and tens of thousands of images online.

When asked where to start book collections, I almost always recommend these art bibles: Janson's "History of Art" OR Phaidon's "The Art Book" Both give a nice overview with good pictures. Once you've discovered what you are attracted to there most, you can then dig deeper into that area.

If I had to pick only a few of my major influences, which is a very difficult task, it would be Modigliani, Picasso, Van Gogh, & Andrew Wyeth. Here are a few of the best books I recommend from them.

Modigliani

Modigliani: Drawings 102 Colour Plates

Picasso: Man & His Work Part 1

Picasso: The Man and His Work – Part 2

The Mystery of Picasso

Picasso Line Drawings and Prints

Picasso Portraits

Picasso Sculpture

Picasso in The Metropolitan Museum of Art

Vincent van Gogh: The Lost Arles Sketchbook:

Van Gogh: Complete Works

Andrew Wyeth: Looking Out, Looking In:

Andrew Wyeth: Memory & Magic

If you have the time, you are free to visit my GoodReads library to see a fraction of the books I've read. The ones I remember, that is. Or you can visit the ever growing collection of images on my Pinterest account.

The Materials: Quick! Order this stuff right now, AND You too can make masterpieces!
Marks-A-Lot Permanent Chisel Tip Marker, Large, Black: The Review: I challenged myself with some poor tools at the time, so I wouldn't strongly suggest these.

or you could use

Graphite Pencils: The Review: This is a brand I picked up when I lived in Spain, and I've been using some of the same pencils for nearly twenty years now. Partially because I don't use a lot of graphite; Partly because they haven't broken and crumbled during sharpening and travel in my flimsy pencil case.

Moleskine Sketchbook: The Review: Some may ask if I've succumbed to the marketing of Moleskin and that is why I pay the higher price for these watercolor paper notebooks. Maybe, if you take into account that this type of sketchbook has been used by such artists as Van Gogh, Picasso, & Hemingway, then I have been sold by that bunch of so and so. I love the texture of the watercolor paper and find it the most enjoyable to draw on with pen, pencil, and ink. These books have solid covers, and always seem to inspire some new creativity, be it giving me the chance to draw on one side, and take notes on what I drew to figuring out how to incorporate the seam into the drawing. I love them. They come in a ton of different sizes, and I've used quite a few, but prefer the smaller ones for ease of carrying around. Check out their website for other options Or just type Moleskine on Amazon and have fun choosing one!

Photoshop for Mac: The Review: You could use the free " MAC Photos" program or Picassa and possibly get the same results, but Photoshop offers you the flexibility of presenting yourself as a pro photographer, like no other program. There's a reason it's considered the best of the best, after all. So, this allows you the possibility of selling this service to others and funding more of your creativity

Apple MacBook Pro 15.4″ Laptop: The Review: You may choose to get an iMac for the bigger screen, and I couldn't disagree with the beauty of working with the 24" screen. I picked the laptop, because of the need to be mobile and the flexibility of multi-purposing it to use for client demos. As an alternative to the weight of this model, I would suggest the MacBook Air 13". Most of us have become accustomed to mobile device size screens and it is much easier to carry around.

Camera: Canon EOS Rebel T6 DSLR: The Review: My first DSLR camera was the EOS Rebel T3. This one is vastly superior to the old model. Canon has a well-deserved reputation of having top rated cameras. It requires a little play time to master it, and that time will be lessened by defining a clear idea of what you want to do with it, then jumping on YouTube for the multitude of How To videos. If you want a smaller camera to carry around, try Canon EOS M10 Mirrorless Digital Camera OR go small & powerful with the Canon PowerShot Digital Camera with 3-Inch LCD & built in wifi.

Canon PIXMA MX492 Inkjet Printer: The Review: For me, this has been the easiest to use for cleaning and cartridge replacement. It works reasonably well with recycled inks and the wireless is easy to set-up. The Canon has worked best for me on ink usage. When purchasing printers, always consider the cost of ink replacement… for the most part, this is the big difference right now in printers. For big reproduction lines, it is better to outsource. For scanning, they are as good as the camera in them… this is one reason I'm a fan of Canon products. It does do a nice job on printing photos on good photo paper, and the black print is crisp and clean, provided you do regular cleanings and keep it dust free.